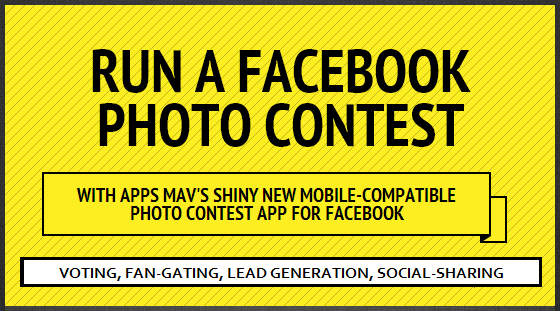 Our Mobile Compatible Photo Contest App for Facebook is Now Out!
To run and manage a Facebook Contest with ease, you need the perfect Facebook Photo Contest App. Keeping in mind the requirements on business owners, we have launched a Photo Contest app for Facebook that incorporates all features you'd look for in such an app.
The app is easy to install and configure, and is completely mobile-compatible, allowing Fans to submit their entries from their mobile devices  – so as to not alienate Facebook's immense mobile user base.
To run a Photo Contest on Facebook you also need to make sure the Facebook app allows you to display contest terms and conditions, brand guidelines, and the Facebook promotion policy, to avoid your Facebook page from being banned. The Photo Contest app allows you to display all of the above, and ensures users agree to these before participation.
The app's Fan-gating option ensures visitors 'Like' your page and become a fan, before they can proceed to find out more details or participate in your Photo Contest, ensuring a fantastic upsurge in the number of your Facebook fans..
It is important for you, as an already established brand or an upcoming brand, that you get sufficient space to display your branding. The Photo contest app has multiple placeholders to display custom banners and images. Additionally, the white-labeled version of the app even allows you to remove the Apps Mav branding and brand the app as your own.
Apps Mav's Photo contest app for Facebook also comes along with an inbuilt sign-up form which allows you to collect important participant data such as email, contact details, etc, converting your fans into leads. All this data is emailed to one email address defined by the admin while setting up the contest. As an alternative, you can even collect all these email addresses and send them newsletters or promotional emailers using the app's integrated email marketing system, the Apps Mailer.
Like most of our Facebook contest apps, the Photo Contest app also includes a 'voting' feature, which allows your fans to generate support for their entry by having their friends vote for their entry. Votes also generate stories on your fans' and their friends' newsfeeds, upping the viral quotient of your photo contest. Its ready to use social-sharing features also let participants share the contest, or their entries to not only their own Facebook profile, but also other social networks such as LinkedIn, Pinterest, Twitter, etc, resulting in maximum exposure for your contest.
One of the greatest feature of this Photo Contest Facebook App is that you can go one step further and make your fans' contest experience even better. You can display the contest to your fans in their language by simply setting the language for the contest, and participants can see the entire app in that language!
The Apps Mav's Facebook Photo Contest app comes along with a suite of Facebook Apps for various business types, which you can use to run Facebook contests, to sell on Facebook or even to integrate YouTube on Facebook or Twitter on Facebook. You can get all these Facebook apps for as low as USD 4.95 per month for 0 – 500 fans.
Related Posts:
5 Fun Facebook Photo Contest Ideas for Christmas
4 Facebook Contests Ideas for Businesses to Engage Fans and Generate Leads