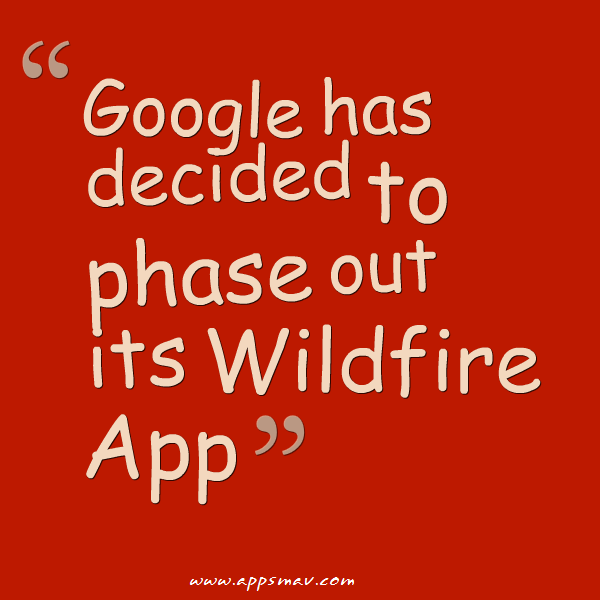 Google decides to phase out wildfire apps
Google has decided to phase out its Wildfire App: Existing customers can opt for Apps Mav Facebook Apps for seamless transition
Wildfire announced on 13th March, 2014 that it has decided to concentrate on integration of social media insights. The blog states:
"The Wildfire Social Marketing Suite, which helps businesses manage their posts and content on social networks like Facebook, Twitter, Google+ and Pinterest, will continue to be supported (by Google), but further investments will be limited: we won't be building new features or signing up new customers."
If you are a Wildfire customer who is now looking out for other options to run promotions on Facebook and other platforms, as Wildfire will not be servicing you after the end of 2015, you can now look at other options like Apps Mav for your Facebook apps promotions.
Apps Mav is a Facebook Apps developing agency with over 20 Facebook apps that cater to various business needs of its customers. This Australian based agency has dedicated apps for business, promotion, games and social commerce. These plug & play apps are easy to install and configure by admins, and abide by Facebook promotion guidelines.
For agencies and organisations looking for alternatives to Wildfire apps, Apps Mav can be an excellent and economic option. These apps are also available in White-Label, for customers who wish to resell the apps further or who want to keep only their branding on the app.
These unique Facebook apps of Apps Mav include the social commerce apps like – Facebook Shop, Group Deal, and Instant Rewards apps. The secure transaction is enabled by the PayPal in these Facebook apps.
The Facebook apps have a fully customised contact form which has been integrated email marketing system (available at a minimal cost), which can be used to retarget the Facebook Fans with future promotions, offers and email newsletters. It can be displayed in absolutely any language of your choice. And, these apps are mobile compatible as well, so that you don't miss out on the mobile audience.
There are purely business apps like Restaurant & Cafe app which can be used by restaurant, lounge, cafe, bakery, patisserie. There are social commerce apps including Facebook Shop app, for retailers and many more interactive apps.
The contest apps like Photo Contest, Caption Contest, Essay contest and Timeline Contest are some of the regular contest apps, which are also combined with game and fun apps like Scratch and Win, Sweepstakes, Like and Win, Share and Win, and more.
Get in touch with us, if you are an ex-Wildfire customer and use the code: WILDAPP and we'll give you a 20% off on all apps package. We'll help you with a seamless transition and ensure that your campaigns and promotions continue to run smoothly.