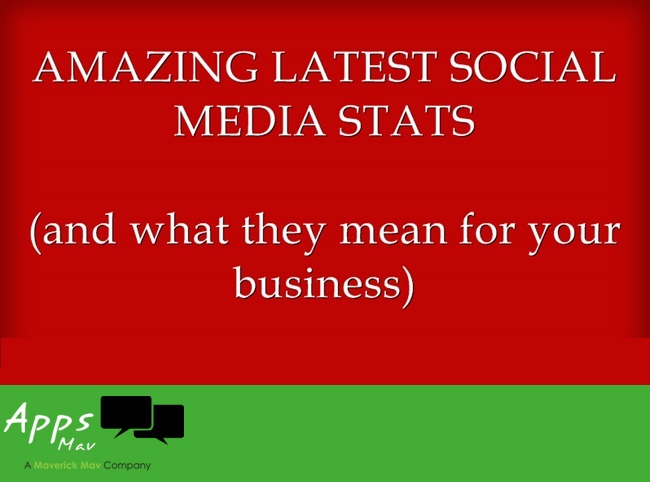 Friday Wrap Up – Latest Social Media Stats – Facebook, Google Plus, LinkedIn, Twitter, Pinterest, and More!
Every week we bring you the latest in Facebook Marketing and Social Media Marketing news to keep you updated on developments that can help your business grow online in the form of the Friday Wrap up. However, this week's wrap up comes with you a twist – showing you the latest statistics of various social platforms to help you choose the best platform suited to your unique business needs.
Facebook: Facebook's been having a great time a social platform for a long time now, and its successful streak continues with these latest numbers. Almost 50% of the world's internet users are active on Facebook, and more than 23% of Facebook users check their accounts over 5 times a day. There are over 10 million Facebook apps, including Facebook fan page apps.
People love to document their memories more than anything, and hence, the most popular activity on Facebook remains uploading photos with over 250 billion photos uploaded to Facebook everyday.
Time to run a Photo Contest on Facebook, maybe?
Google Plus: In a shocking turn of events, the next in line in social domination after Facebook is not any other platform, but Google Plus. Google Plus has 50% account ownership compared with Facebook's 70%, simply because a G+ account gets created anytime one signs up for a Gmail account. Simply because of its linkage to other popular Google products, and the SEO boost shown by Google Plus activity, it attracts 1,203 million monthly visits. Another statistic in the increasingly similar Google Plus and Facebook statistics is that uploading images seems to be the most popular activity in the platform – except in the case of Google Plus, they can also be animated.
Twitter: Twitter has turned into what you could call a personal news channel, with the maximum number of tweets documents daily activities – so basically, Instagram minus cat pictures, or any pictures for that matter. 60% of Twitter users access it from mobile devices, and the largest growing demographic on Twitter is 55 to 64 years olds, with 79% users from this demographic being active.
It only makes sense to link Twitter to Facebook and stream your tweets on your Facebook brand page to give your Twitter page that added boost.
LinkedIn: The platform has undergone major design overhauls recently, making itself more social. Since the platform is purely about business, it is the most popular social network among the older demographics (45 to 54, and 55+). LinkedIn Groups remain its most popular feature with a total of 1.5 million groups, and a whopping 81% of its users belonging to at least one group.
Pinterest: It's the fastest growing platform with a growth rate of 88%, and a great platform if your target demographic is women, as 69% of the platform's users are female. It also makes sense to capitalise on Pinterest's obsession with food as the most popular pin, believe it or not, is of a Cheesey Garlic bread, and 57% of the content is food-related making it the most popular category on the platform.
If you are a fashion or food brand, do make sure to connect Pinterest and Facebook to cross-promote your pins to a wider audience.
Instagram: More than 5 million photos are uploaded to Instagram everyday, and Instagram as a platform gets 1000 comments per second. Within 24 hours of the launch of its video-sharing feature, over 5 million videos were uploaded to the platform.
Apart from these breathtaking statistics above, there are bunch of eye-opening social media stats we should also look at:
YouTube attracts over 1 billion monthly unique users, so we can't stress the importance of displaying your YouTube videos on Facebook enough. Around 46% of internet users turn to social media platforms for making purchases online, and since the biggest audience remains with Facebook, do make sure set up a Facebook Shop to sell on Facebook.