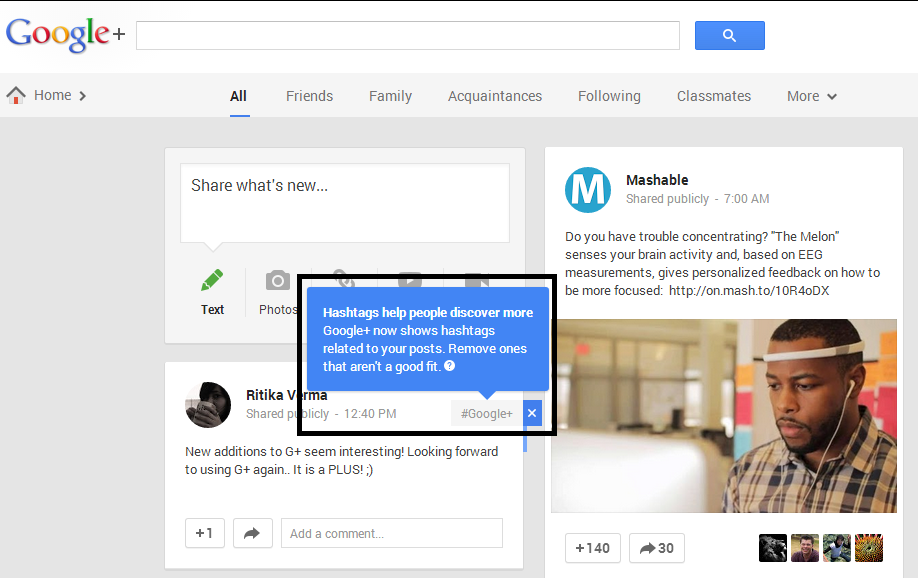 New features of Google Plus launched
Friday Wrap Up – Google+ Gets an Update, Yahoo Acquiring Tumblr, & more
We're here with your Friday Wrap Up again! Read on to find out what's happened in the digital world this week.
Google+ gets some Plus points
Google updated Google + this week. They redesigned it into what appears to be a combination of Facebook and Pinterest. It auto selects the #hashtags relevant to your post. It's more image based and in two columns. New features like Highlighter images, Awesome images have been added. Read more about these Google announcements.
Mobile Marketing
If you've got a business, it is important to take mobile marketing into consideration. Your website should be responsive and your apps should be available on all platforms. Here is an interesting infographic on mobile marketing trends of 2013.
Yahoo to buy Tumblr?
News is out in the market that Marissa Mayer may close in on an acquisition deal worth $1 billion for Tumblr. This might be a great way for Yahoo to make a comeback in the social media market. However, Tumblr's CEO David Karp, has a choice to make, whether Tumblr can succeed without Yahoo's help or not – Tumblr user aren't amused (duh), and a stream of witty reactions to the news is doing rounds on the network.
Google launches unmanned car
A Toyota Prius with a cylinder-like funnel on top, the car is a Google project where the car's Artificial Intelligence can sense anything near it and also mimic human decisions while driving. Would you care to drive Google's unmanned car?
Yahoo adds Twitter content to news stream
Another interesting news about Yahoo is that Tweets have been included in Yahoo news stream. Mayer considered Tweets to be a relevant source of information and considered it a natural step of progress.
Google set to launch "radio with rules"
Google recently announced that it will be launching an "All Access" service for music fans charged at $9.99/month. This would be radio with rules, with a collection of millions of songs being available to fans. Google's music service would be a strong competitor for Spotify, Pandora and likes.
Comment directly on Facebook posts from Bing
Bing will display relevant Facebook comments on the sidebar based on your search. This feature is expected to go live on Friday. Would you care to interact with Facebook posts from Bing search?
Solar Cells on A3 size paper
Soon you could print out solar cells on a sheet of paper. The researchers at Australia's Victorian Organic Solar Cell Consortium, University of Melbourne, Monash University and industry partners have managed to develop printable photovoltaic cells on a sheet sized A3.