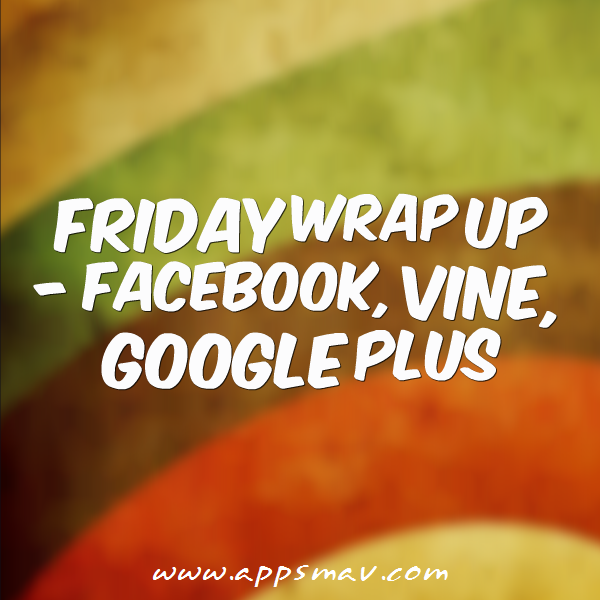 Friday Wrap Up Blog
Friday Wrap Up – Facebook, Vine and Google Plus
Another week has gone by and here is our collection of sizzling updates on interesting updates in the world of social media. Facebook is going to allow Page admin's to interact with the Page reviews, Vine is one-year-old and Google is going to introduce +Post ads.
Facebook to allow Page Admin's to comment on Public Reviews of their Pages for Places
Facebook has public reviews options for local business, places where the user can rate the place with a 5 star rating system and also add qualitative review. Until recently admin's could not interact with these reviews. But now, Facebook is going to allow admin's to comment on the reviews and interact with the public. This feature can be used in multiple ways to build positive brand effect and also to identify and maintain a relationship with brand loyal customers. Read more
Happy First Birthday Vine
Happy Birthday one-year-old Vine! On January 24th, 2013, twitter had released Vine to public. While Vine is a tool that requires certain specific skill-set to create videos – these are not artistic videos. Vine has over 40 millions users. It is interesting to note the cycle of a Viner. He/She initially tries to generate video content, a little later realise its too difficult to create good viral content, and eventually end up being the consumer of content on Vine. Whereas, there are some early adopters who have started to make money out of Vine videos by creating funny, magical or paper cutout animated Vines. Read more
You can check out Zach King's Vine here
Google +Post ads
Google+ is going to release +Post ads which will be viewable on Google network of about 2 million sites. These ads won't be displayed on the social network. They will look like Google+ posts and have social sharing +1 option on them.
These ads are under testing by a few companies and have not been released yet to larger audience. Here is video that shows how Toyota reaches its users using Google Plus ads. Read more