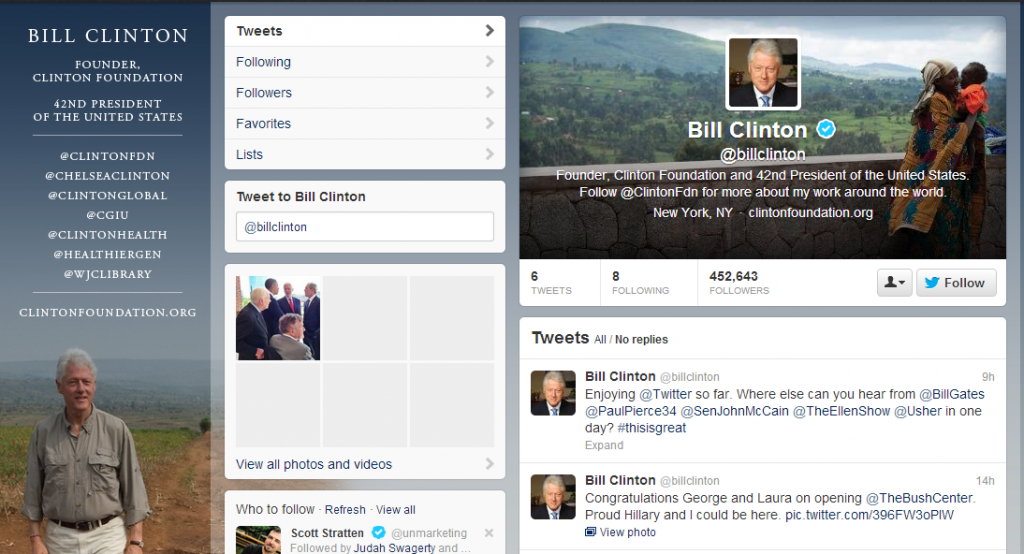 Bill Clinton joins Twitter!
Friday Wrap-Up – Bill Clinton, Tumblr, iOS Update & More
Social Media marketers rarely have an off day, as the ceaseless developments leave no time to break a sweat. So, we are back again with our weekly digest of social media and technology news you should know, if you hope to keep up!
1) Former President of The United States, Bill Clinton, surprised everyone by officially joining Twitter, finally, on Wednesday. Previously, Clinton's only presence on the micro-blogging network was through the Clinton Foundation Twitter page.
2) Following Tumblr's recent introduction of ads to its iOS app, a new version – Tumblr 3.3.1 – has also been released. The updates fixes the glaring social-sharing issues with the Tumblr app and allows users to share Tumblr content vis Facebook and Twitter.
3) Interactive images aren't a new concept, however ThingLink is the only one to have integrated the concept properly with social media networks. Limited until now only to Twitter, ThingLink's interactive images have now come to Facebook, allowing one to embed interactive content within an image to be seen by users – without ever having to leave the Facebook Timeline. To get a clear idea of its functionality, see this post by Doctors Without Borders incorporating ThingLink interactive images.
4) There isn't a technology lover who doesn't dream of attending WWDC, or Apple's Worldwide Developer Conference. This year, however, the event sold out within 2 minutes of ticket sales opening – in spite of its USD 1,599 ticket price.
5) Internet hacktivist Aaron Swartz's recent suicide came as a blow to the internet community, but his immense influence has inspired a documentary on the man's life. Director Brian Knappenberger has initiated a Kickstarter program to fund the project.
As always, your feedback and opinion is welcome.