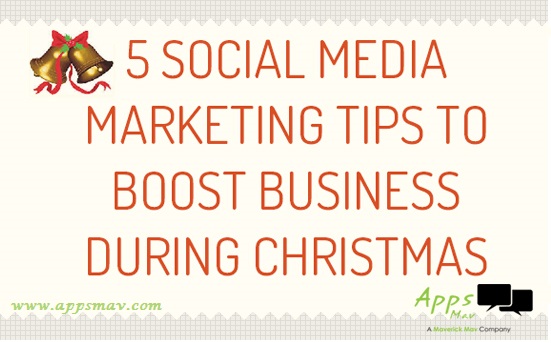 5 Social Media Marketing Tips to Boost Business During Christmas
Christmas is only a month away, and we're absolutely certain that you are preparing for the final stretch of sales in the month leading up  to Christmas. Whether your business is new or old, small or large – here are 5 awesome tips you can use to boost your business this Christmas season on social media.
1. Daily Interaction Leading up to Christmas
Start posting daily on your Facebook Page (one update per day) and don't forget to respond to your fan's comments and messages regularly. Responding to fans on social media is sacred, as lack of response can ultimately result in an online reputation crisis.
Tweet at least twice (or thrice) a day. You can also use Twitter for customer support). Add Pins about your products on your Pinboards. You could create a board of christmas specials, products, discounts and offers. Share the news on your Google Plus company page. Interact on whichever platform you prefer – but interact daily.
Do make sure that you integrate all these profiles with your Facebook brand page, so your visitors on Facebook have one-click access to your YouTube channel, Tweets, Pins, and more right from your Facebook page. Integrating YouTube and Facebook, and Twitter and Facebook etc. will also ensure your contest on all platforms gets maximum views.Get Out movie streaming
2. Prep your Christmas campaign
Ideally, you should be all set to launch your campaign on social media. But, if you haven't already planned for your Christmas campaign to promote your products and services, don't sweat. It's never too late. Here are some ready-to-install and use Facebook apps that you can use to run contests on Facebook. You can set up a Photo Contest, a Caption Contest, Sweepstakes or even offer Group Deals on Facebook to Christmas shoppers!


3. Twitter for Promotions and Offers
While you can giveaway coupons on Facebook, don't underestimate the use of Twitter. Tweet about your sales, discounts or offers you've got planned for Christmas. Use a custom hashtag like #christmaswithbusinessname along with a popular trending hashtag #christmas to get the push and visibility you need organically. You can use promoted tweets to get awesome reach. But don't forget, you've got to compliment your campaign strategy with a brilliant deal that will blow your customer's minds.
4. Beautify Your Social Media Properties
First impression makes a difference. Beautify your Facebook Page with a great Christmas cover image design that talks about your promotions or Christmas contest (make sure it follows Facebook rule of 20% text only). Add a brilliant Twitter skin to complement it. Also update your YouTube banner and Google Plus banner. Create all the designs under same theme – Christmas!
5. Spend on Advertising
While organic efforts can get you engagement, careful advertising will amplify your reach instantly. There are occasions when advertising can do wonders and Christmas is exactly that. Customers are looking out for the best deals they can find, so use advertisements on social media to bring your offer to them. You can advertise your Christmas campaign on social media using Facebook ads, Promoted Tweets, Promoted Pins and even Google AdWords.
If you are not quite sure of how to run a campaign along with proper Facebook ads management, you can always hire professionals for one-time Facebook Campaign Management.
Gain loyal customers, and increase your sales this Christmas season by following these simple, yet effective tips.