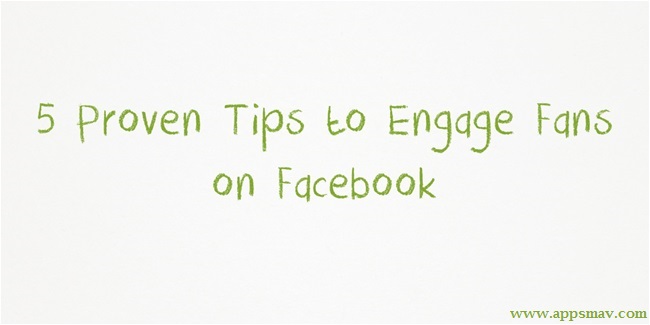 5 Proven Tips to Engage Fans on Facebook
Like we have said time and again, setting up your presence on a social network alone is nowhere near sufficient to attract an audience. Your content may be fun, and exciting, but if it isn't something your Fans can relate with, they have no reason to engage with your brand online. High numbers of Facebook Page Fans are pretty much useless, if you haven't even activated a small percentage of them.
Here are 5 tips to help you get back on track and effectively engage your Fans, build a dialogue with them and, if you do it right, convert them into customers.
1. Timing is Crucial: Spend time on finding out when is YOUR audience online. Experiment by posting at different times and zero in on the times when your posts receive the most interactions. Once you have identified the timings that work for your brand, stick to posting all major announcement during that time only.
2. Run a Contest: Facebook users have always been excited by contests, as these require minimal effort for participation and get them great rewards. Create and run a contest that works for you, you can choose from an endless array of various types of contests. With the holidays right around the corner, a Photo Contest on Facebook makes a lot of sense, as these are highly visual, attractive, and your Fans have thousands of pictures to share from the holidays. If you are looking for more ideas, check out these amazing Christmas Photo Contest ideas, and simply take your pick.
3. Reward Interaction: There's nothing better that convinces your Fans to interact on your Facebook fan page than a reward for each interaction. By itself, the process can be tricky to set up, but thankfully there is a truly unique Instant Rewards Facebook app out there which helps you reward your Fans with a voucher or coupon based on multiple scenarios. Some of these scenarios will help you reward:
Most 'Replied-To' Comment
Random winners, and more.
The app is mobile-friendly, and absolutely free to use. You only pay for the coupons you purchase.
4. Promote Posts: Based on the type of post you are sharing, it makes a lot of sense to promote it by 'Boosting' your post. A very small percentage of your fan base gets to see your content at a time due to Facebook's algorithm. If you are making an important announcement such as launch of a new product or service or discount, you want to make sure that every one of your Fans see it, and that can only be accomplished by promoting your Facebook post to all your Fans.
5. Be Responsive: Social networks are fast turning into the primary mode of communication between customers/ potential customers and brands. Users find it easy to simply leave their questions and/ or feedback right on your Facebook Page, but it is because they are trying to save on time. If you do not respond to Fan messages, posts, etc. not only are you taking up their valuable time, but also antagonizing them without realising it. Make sure you respond to each Fan post, and quick, as that can help turn even the most negative of feedback around.