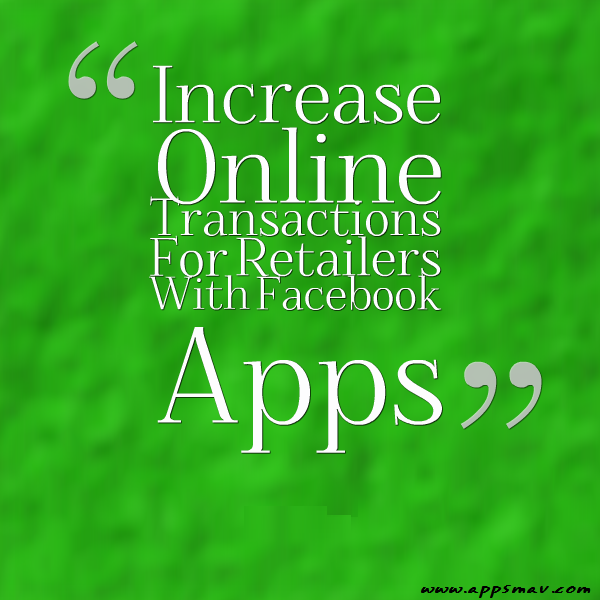 3 Facebook Apps that Help Increase Online Transactions For Retailers
Fish where the fish are. If you want to sell your products online, it's of utmost importance that you make Facebook Marketing an important part of your marketing strategy. Your online customers believe in referrals, and they refer products (or services) to their friends on Facebook. You can not think of Facebook Marketing without the awesome Facebook Apps and so, here is a list of 3 must-have Facebook apps for retailers to increase online transactions.
1. Facebook Shop
You can sell only from a shop and so on Facebook, you should get the Facebook Shop. Set up your Facebook Shop which is easy to install and manage. Add your products through RSS feed, CSV file or manually. Brand your shop with your logo, colors, design and font. Add your PayPal secure transaction details and start to sell on Facebook.
Using this app will allow your customers to share your products and interact with them on all social media platforms. It will also help your Page gain new fans with the Fan-gating option (i.e. asking non-fans to Like your page before they can view your products).
2. Group Deal
Buyers like deals. Offer group deals on Facebook to your Fans. Set-up a simple Group Deal Facebook app that allows you to define basic fields like: Start and end dates, Original and Deal Price, and minimum how many people sign-ups required to unlock the deal. As a retailer, even if at a discounted price, you are still generating revenue and gaining a lot of customers who will spread the word on Facebook like a wildfire, in turn making your group deal go viral.
3. Instant Reward
One of the objectives of Social Media marketing is to convert a Fan into a customer. While they can be redirected to online portals, here is a Facebook app that can also gives you an opportunity to bring these Fans to your doorstep. By using this simple Instant Reward Facebook App, you can reward your Fans for interacting with your Facebook Page. You can encourage them to take simple actions like Comment on your post, Like your post, or Like your Page. What makes this app special is the ability to instantly reward these fans for taking these basic actions. You can email a special code that can be cross checked with the Page admin and used for any offer you want to give. In simple words a Facebook action turns into a transaction with Instant Reward Facebook App.
These apps allow you to save contact details in an email marketing system – Apps Mailer. You can use the email addresses stored in a subscriber list to reach out to these Fans with future offers and campaigns using Newsletters and Promotional emails. You can get all of these exciting Facebook apps for Retailers and more from Apps Mav for free as there's an offer running on their Facebook Page! Avail Offer Now.