Facebook Rolls Out Embedded Posts Feature to All Users
Constant improvement seems to always have been Facebook's motto, and the same shines clearly through the flurry of feature updates Facebook has been making since its inception. While many of its UI changes have invited a lot of criticism, this particular feature has resulted in bloggers worldwide breathing a collective sigh of relief, and will only be an added weapon in your Facebook Marketing arsenal!
//
The feature, which was previously only available to publications like Mashable, The Huffington Post, Bleacher Report, PEOPLE, and CNN, has now been rolled to all its users. Now, like your Tweets, and YouTube Videos, you can also embed your Facebook posts on your website or blog posts, as shown above.
To embed a Facebook posts, simply click on the downward arrow on the top right hand side corner of the post you'd like to embed, and click on Embed Post. After that, you will be presented with an embed code that you can simply copy into your website's HTML or your blog post, and voila!, you're done.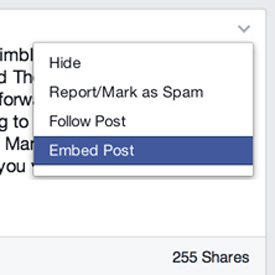 review smartphone android
The Embed Post feature also supports in-line video streaming, meaning that if you share a video in your Facebook post, embedding it in your blog will allow your readers to watch the video without leaving your blog.
So if you have set up shop on Facebook, this feature is bound to come in handy. How many of your are rejoicing? Let us know with your comments!