We help businesses WIN! more customers from social media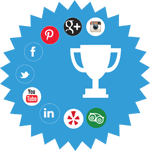 Boost , , and via Social contests and Social COMMERCE
Select your Industry
We provide targeted solutions for your business
While you FOCUS on your business, we will:
CREATE and enhance the quality of your SOCIAL MEDIA PRESENCE.
Boost engagement, leads and customers via contests and GamIFICATION.
ENABLE social commerce WITH FACEBOOK STORE, GROUP DEALS, FAN SHARE & WIN! CAMPAIGNS, AND OFFERS.
CREATE ENGAGING content THAT HELP CONNECT YOU WITH YOUR CUSTOMERS.
Increase your brand visibility ACROSS SOCIAL MEDIA CHANNELS.
Monitor & RESPOND to COMMENTS AND REVIEWS.
RESOURCES WORKING ON YOUR PROJECTS
Campaign Strategy Manager

Social Media Project Manager

Social Media Technical Developer

Customer Support Excecutive

Social Media Marketing Brand Designer

Social Media
QA/Tester
Social Media
Content writer