THE ULTIMATE SOCIAL MEDIA MARKETING GUIDE
4 BOOKS IN ONE!!!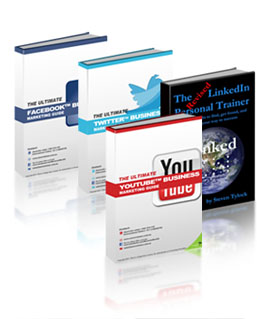 Social Media Marketing is a powerful tool through which your business can experience massive growth, Facebook, Twitter, Linkedln and YouTube are key social media platforms for reaching out to new customers, building loyalty & growing your business.
Getting started with social media marketing can be tricky. Your success depends on how well you can leverage a number of functions on different networks and integrate them into an overall strategy
Thats where the ultimate Social Media Business Marketing Guide comes in.
Increase your Share of Voice on the Social Network and grow your business.
$145.00+GST


Utilizing Facebook's important Tabs and Features
Strategy for achieving Fast and Consistent Facebook Fan Growth

How to get feedback from your customer base and offer support with Twitter
How to promote your brand on Twitter and create that buzz

Learn to leverage YouTube to promote your brand
Learn to quickly and easily use YouTube to showcase your Business

How to use LinkedIn to build professional connections and customer
Target customers through LinkedIn advertising
$145.00+GST